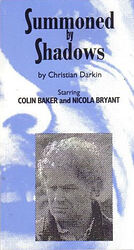 Edition:
UK (original VHS)
Title:
Summoned by Shadows
Released:
January 1991

Publisher:
BBV
Format:
1 x VHS PAL
Owned:
Buy:

| | | |
| --- | --- | --- |
| | | (Not currently available) |
Cover blurb:
After many wanderings through time and space, the mysterious traveller (Colin Baker) now ekes out an existence in solitude and self-abnegation amongst the desolate plains of an alien world, turning a seemingly blind eye to the macabre goings-on at a nearby marketplace where the circus tricks of a strangely familiar clown (Michael Wisher) possess the souls of the living...
Why does the mute undertake a perilous journey to seek the strangers [sic] help? And what is the ghastly secret behind the eerily surreal garden party whose uneasy participants have a habit of falling horribly foul of their all too genial host (Michael Wisher)?
These are just some of the many dangers that the stranger, now reunited with his young female companion (Nicola Bryant) has to face before confronting the sinister Shadow in his labyrinth of evil...
Starring Colin Baker famous for his role as TV's Doctor Who and Nicola Bryant, also from that space saga, this epic adventure is bound to excite both devotees of that series as well as the general sci-fi enthusiast.
So hold on tight for a thrilling journey through alien wastes inhabited by both the bizarre and the monstrous, where the stranger and his new friends are finally summoned by the malignant Shadow whose space shuttle hovers ominously above the planets [sic] surface, poised to strike!!!
"The best in science fantasy, combining the sinister and the surreal, complimented by some superb special effects, for the discerning SF viewer"
Gareth Pickard, columnist for the Doctor Who Appreciation Society magazine
"A mesmerising, morbidly fascinating tale, empowered by outstanding performances, this Kafka-esque psychodrama packs punch with insight, a unique and terrifying experience..."
F. F., Science Fiction and Fantasy Review