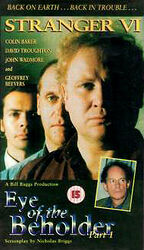 Edition:
UK (Part 1 VHS)
Title:
Stranger VI: Eye of the Beholder - Part 1
Released:
July 1995

Publisher:
BBV
Format:
1 x VHS PAL
Owned:
Buy:
Note: Like The Devil of Winterborne (released around the same time), BBV made the curious decision to release the video in 2 parts, each sold separately — even though the complete production at 82 minutes is shorter than the majority of feature films! (Although, to be fair, it is approximately twice as long as any previous Stranger drama, which were all in the 35-45 minute range.)
Cover blurb:
Soloman, Egan and Saul are Preceptors, creatures from the Dimensional Web who have taken physical form to carry out acts of indiscriminate terrorism in this universe. Soloman has seen the error of his ways. Egan, however, believes Soloman has reformed only as a result of indoctrination by their enemies, the Protectorate.
EYE OF THE BEHOLDER - PART ONE
At the end of the previous STRANGER story, Breach of the Peace, Egan and Saul forced Soloman to give up his peaceful life on Earth and re-enter the Dimensional Web. But no sooner have they left than they find themselves back on Earth. They have been wrenched out of the Web by an unknown force which has set in motion a catastrophic chain of events.
Eye of the Beholder is the sixth in the STRANGER series. Colin Baker once again stars as Soloman, while David Troughton and John Wadmore return as Egan and Saul. Accomplished stage and screen actor Geoffrey Beevers guest stars as top secret research scientist Hunter.