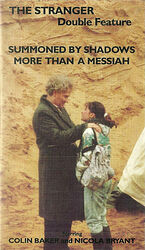 Edition:
US (2nd VHS)
Released:
January 1996 (Exact date unconfirmed)

Publisher:
S & J Video
Format:
1 x VHS NTSC
Owned:
Buy:
Cover blurb:
Summoned By Shadows
by Christian Darkin
After a long time wandering through time and space, the mysterious traveller lives in solitude on the desolate plains of an alien planet. He ignores the macabre goings-on at a nearby market where a clown possesses the souls of the living.
Why does the mute seek him out? And what about the eerily surreal garden party whose uneasy guests have the deadly habit of getting on the wrong side of their host?
This program also stars Michael Wisher, known for his portrayal of the evil Davros in the series Doctor Who.
More Than A Messiah
by Nigel Fairs
Majus Seventeen, a paradise world where interplanetary tourists live in wood cabins amid primitive wildlife, on the banks of a serene ocean.
When the Stranger and his companion arrive, the [sic] soon realize that the planet is not what the brochures promised. Dark decaying bodies rise up out of the ground, the ocean seems to swallow swimmers, and the wildlife is far from friendly!
Sophie Aldred stars as a mysterious girl who developes [sic] an infatuation with the Stranger, and eventually threatens the lives of everyone on the planet.
Directed and produced by Bill Baggs
Colin Baker, known for his portrayal of the sixth Doctor Who and Nicola Bryant, known for her portrayal as Peri, the companion of the fifth and sixth Doctor Who star in these bizarre intergalactic adventures.