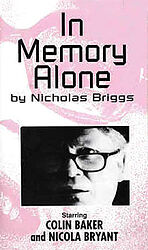 Edition:
UK (original VHS)
Title:
In Memory Alone
Released:
January 1993

Publisher:
BBV
Format:
1 x VHS PAL
Owned:
Buy:
Cover blurb:
The deserted dilapidation of a railway station is violently distorted by an unscheduled arrival. Something has travelled an unimaginable distance across Space... It has a need...
The station's reopening was not on the official timetable, but nevertheless the platform has been swept clean and things are back to... normal? A train is approaching, but its sole occupant knows only one thing for sure: he doesn't belong here.
Waiting at the station is a woman... but what is she waiting for? Answers to questions she cannot even remember...
Who is the boring little man in the bowler hat? How does he appear from nowhere? Why is the station patrolled by the sinister robotic drudgers? And what is at the heart of all this — tightening its grip, seizing control, sucking in a deadly void from... outside?
The shattering resolution pitches The Stranger and Miss Brown into a deadly race against time in which they must fight to regain their identity and escape the catastrophic collapse of an alien mind.
Bill Baggs presents the third in a series of Science Fantasy videos following the exploits of The Stranger (played by Colin Baker) and Miss Brown (Nicola Bryant). Following on from the successes of Summoned by Shadows and More Than a Messiah, this story is the most ambitious yet...
"A classy production, taut with atmosphere, drama, mystery and splendid performances"
Gary Russell, Doctor Who Magazine
Includes a mini documentary The Making of In Memory Alone, plus a unique selection of out takes.