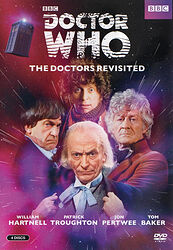 Edition:
US (DVD)
Released:
July 2013

Publisher:
Unknown
Format:
4 x DVD
Owned:
Buy:

New:

$49.98

$22.92 Save 54%
Used:
$44.99
Note: In June 2014, this DVD plus the other two Revisited releases were packaged together as "The Doctors Revisited Giftset" and sold in US retail stores. However, this literally consisted of the original 3 releases wrapped together in plastic film — no slipcase and no additional packaging or contents. Hence why I do not count this as a separate "item" and have chosen not to list it on my site. However you can buy the giftset via the following links: Buy from Amazon.com | Buy from Amazon.ca
Cover blurb:
Celebrate the 50th Anniversary of television's longest-running Sci Fi series with The Doctors Revisited, a collection of authoritative tributes to the 11 actors who have played this iconic character! This set showcases Doctor Who's first four Doctors, William Hartnell, Patrick Troughton, Jon Pertwee, and Tom Baker, spanning from 1963-1981, a period of almost twenty years! There is a half-hour profile special for each Doctor with reflections from Doctor Who figures past and present followed by a classic story for each Doctor. Get to know these amazing actors like never before and own a piece of television history!
INCLUDING THE COMPLETE STORIES:
THE AZTECS
THE TOMB OF THE CYBERMEN
SPEARHEAD FROM SPACE
PYRAMIDS OF MARS
SPECIAL FEATURES
Each classic story presented in both widescreen feature presentation with specially recorded Steven Moffat introduction and its original 4-part version.