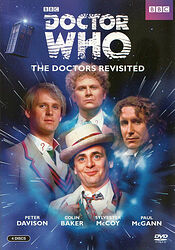 Edition:
US (DVD)
Released:
October 2013

Publisher:
Unknown
Format:
4 x DVD
Owned:
Buy:
Note: In June 2014, this DVD plus the other two Revisited releases were packaged together as "The Doctors Revisited Giftset" and sold in US retail stores. However, this literally consisted of the original 3 releases wrapped together in plastic film — no slipcase and no additional packaging or contents. Hence why I do not count this as a separate "item" and have chosen not to list it on my site. However you can buy the giftset via the following links: Buy from Amazon.com | Buy from Amazon.ca
Cover blurb:
In this exceptional commemoration celebrating the 50th Anniversary of Doctor Who we continue our look back at the actors who have portrayed this iconic hero. The years 1981-1996 saw four new actors portray the Doctor, Peter Davison (1981-84), Colin Baker (1984-86), Sylvester McCoy (1987-89) and Paul McGann (1996). Doctor Who showrunner Steven Moffat is joined by actors from Doctor Who's storied past including Downton Abbey star Hugh Bonneville and others to look back at the unique characteristics that make each actor's portrayal a thrilling new adventure, along with a classic story for each Doctor. The Doctors Revisited is a celebration of Doctor Who that true fans won't want to miss!
INCLUDING THE COMPLETE STORIES:
EARTHSHOCK
VENGEANCE ON VAROS
REMEMBRANCE OF THE DALEKS
DOCTOR WHO — THE MOVIE
SPECIAL FEATURES
Each classic story presented in both widescreen feature presentation with specially recorded Steven Moffat introduction and its original broadcast version.