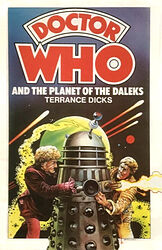 Edition:
UK (hardback)
Released:
September 1976

Publisher:
Allan Wingate
ISBN:
0-85523-076-2
Format:
hardback
Owned:
Buy:

| | | |
| --- | --- | --- |
| | | (Not currently available) |

| | | |
| --- | --- | --- |
| | | (Unable to fetch price) |

| | | |
| --- | --- | --- |
| | | (Not currently available) |
Cover blurb:
Also available in the 'Doctor Who' series
DOCTOR WHO
AND THE GENESIS OF THE DALEKS
Terrance Dicks
At the command of the Time Lords, the Doctor travels back to the time of the birth of the Daleks, in an attempt to totally destroy this terrible menace of the future. But even the Doctor cannot always win...
DOCTOR WHO — THE THREE DOCTORS
Terrance Dicks
In which Doctors One, Two and Three cross time and space and come together to fight their most dangerous enemy — Omega — an exiled and bitter Time Lord, who is ruthlessly planning the destruction of the whole Universe.
DOCTOR WHO
AND THE WEB OF FEAR
Terrance Dicks
The Yeti are back and roaming dangerously at large in the London Underground. Above ground a deadly mist has spread, killing any who linger in it. The Doctor arrives to find the city gripped tight in a Web of Fear...
The inner dustjacket flaps read as follows:
Jo peered through the panel and saw — nothing. Yet someone had entered the cabin. She could hear hoarse breathing and stealthy padding footsteps. A beaker rose in the air of its own accord, then dropped to the floor... THE INVISIBLE ENEMY.
After pursuing the DALEKS through Space, DOCTOR WHO lands on the Planet of Spiridon, in the midst of a tropical jungle... and finds more than Daleks. Vicious plants spit deadly poison, invisible Spiridons attacking from all sides and, in hiding, a vast army waits... for the moment to mobilise and CONQUER.
Terrance Dicks was born in 1935 and educated at East Ham Grammar School and Downing College, Cambridge.
After a spell in advertising the author became a full-time scriptwriter, first for radio, then television where for five years he was Script Editor of the 'Doctor Who' series. He is now a free-lance author and writes many of the highly successful 'Doctor Who' books, and is currently launching a new adventure series for boys and girls about the Canadian Mounted Police Force.
Terrance Dicks lives in Hampstead, London, is married and has three children. He is an obsessive reader, likes 'messing about in boats' and is cultivating an interest in mysticism and meditation.