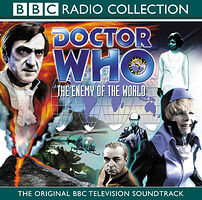 Note: Subsequently remastered and re-released as part of The Lost TV Episodes: Collection Five box set. Not to be confused with the novelisation reading of the same story, released in 2019.
Cover blurb:
PATRICK TROUGHTON PLAYS A DUAL ROLE IN THIS EXCLUSIVE RECORDING OF A 'LOST' TELEVISION ADVENTURE, WITH LINKING NARRATION BY FRAZER HINES
"They hate the person that they think you are — passionately and completely."
No sooner have the Doctor, Jamie and Victoria landed on a sun-kissed Australian beach than they are being shot at by murderous fanatics! A dramatic helicopter rescue places them in the hands of Astrid Ferrier and Giles Kent, two people intent on bringing about the downfall of the world's most dangerous man — who happens to look exactly like the Doctor.
This is Earth in the near future, and Salamander's Sun-Catcher technology has been hailed as the answer to all the world's food problems. Yet is there more to his prediction of natural disasters than meets the eye? Could it be that the death and destruction which he appears to foretell is in fact of his own creation? Jamie and Victoria infiltrate Salamander's Hungarian palace to gain proof of his misdeeds, whilst the Doctor must impersonate the dictator in order to stay alive. In doing so he witnesses the might of his brutish regime, and discovers the terrible secret which lurks beneath the Kanowa research centre.
One of the time travellers' most dangerous adventures ever takes place against a backdrop of volcanos and earthquakes, deadly high-speed chases, assassination attempts and spectacular explosions. Ultimately it will lead them to a climactic confrontation between the Doctor and his murderous double...