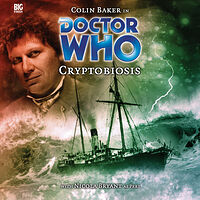 Note: This CD was originally given away free as a special bonus to Big Finish subscribers in late 2005 but subsequently made available for anyone to purchase (in limited quantities).
Cover blurb:
There's a ship out there, on the ocean.
She's called Lankester and, every year, she sails from Madagascar to New Orleans and back again. Every year. Without exception. Regular as clockwork.
Her schedule is never behind. Her cargo is always fresh.
This trip, she has passengers. The passengers have baggage.
And the baggage might just be enough to sink her...