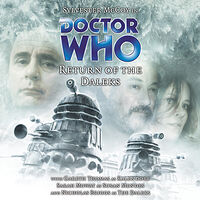 Note: This CD was originally given away free as a special bonus to Big Finish subscribers in late 2006 but subsequently made available for anyone to purchase (in limited quantities).
Cover blurb:
No one could ever know.
We had to erase the past.
Change everything.
Start again.
But even though it's been centuries now...
In our hearts, none of us feels truly...
Safe.
I think, even if our people were to survive until the end of time itself, we would still fear...
The return of the Daleks.