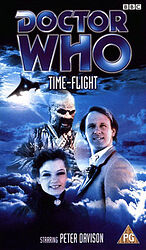 Edition:
UK (VHS)
Released:
July 2000

Publisher:
BBC Video
Format:
1 x VHS PAL
Owned:
Buy:
Cover blurb:
All is not well aboard the TARDIS — in an attempt to cheer up Nyssa and Tegan after the recent death of fellow companion Adric, the Doctor plans a trip back to the year 1851 and a visit to the Great Exhibition in London. However, the journey is unexpectedly interrupted and the TARDIS mysteriously appears in Terminal One of Heathrow Airport in modern-day London. At the same time, a routine incoming Concorde flight disappears without trace... Are the two events connected?
A second Concorde, carrying the Doctor, his companions and the TARDIS is dispatched to follow the same flight path as the missing aircraft in an attempt to discover the fate of the passengers. But when this Concorde arrives back at Heathrow, they discover that things are not quite what they appear to be...
What sinister force is behind the kidnapping of the Concorde passengers and crew? Is an ancient malevolent power at work, or something with which the Doctor is much more familiar?
This story concluded Peter Davison's first series as the Doctor, and was broadcast on BBC1 between 22 - 30 March 1982.