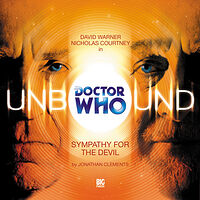 Note: Like the other Doctor Who Unbound audios, this release features a new actor playing the Doctor in "what if" scenarios that deliberately break established conventions of the programme (in this case, "what if the Doctor had not been UNIT's scientific advisor?). David Warner's Doctor enjoyed a second outing a few years later in the sequel Masters of War.
Cover blurb:
1997... and a lone exile arrives on Earth, years later than planned.
On the eve of the Handover, an advanced Chinese stealth bomber crashes in the hills above Hong Kong. The discredited United Nations Intelligence Taskforce has just 24 hours to steal the technology, rescue the passenger and flee to international waters.
Down by the harbour, there's big trouble in Little England — a bar owned by an old soldier, who simply wants to forget his past. But an ancient evil is stirring in a place of peace.
The Doctor finds a world on the brink of terror. A world that has lived without him for years. A world that is frighteningly like our own...