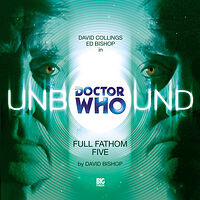 Description: Like the other Doctor Who Unbound releases, this audio drama features a new actor playing the Doctor in "what if" scenarios that deliberately break established conventions of the programme — in this case, "what if the Doctor believed that the end justified the means?"
Cover blurb:
What if... ?
"If I told you the truth, I'd have to kill you..."
The Deep-sea Energy Exploration Project was apparently destroyed by dirty bombs in 2039 AD, turning the surrounding sea bed into a radioactive tomb. Rumours suggest the DEEP was conducting illegal, unethical experiments...
In 2066 the Doctor discovers the research centre remains intact. The terrible truth about what happened twenty-seven years ago will soon be revealed. The Doctor is determined to be the first to uncover and confront the secrets of the DEEP.
But unearthing the past can have terrible consequences for your future...