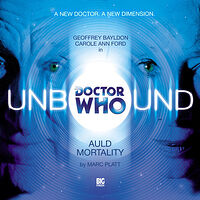 Note: Like the other Doctor Who Unbound audios, this release features a new actor playing the Doctor in "what if" scenarios that deliberately break established conventions of the programme (in this case "what if the Doctor and Susan had never left Gallifrey?") Geoffrey Bayldon's Doctor enjoyed a second outing a couple of years later in the sequel A Storm of Angels.
Cover blurb:
Whatever happened to the Doctor?
He could be Gallifrey's favourite author. Or a bad-tempered recluse.
Or crossing the Alps with Hannibal. Or all three.
But an adventurer in Time and Space? Hardly...
The family would never approve of that... they had other plans for the Doctor and the awesome power of the Time Lords.