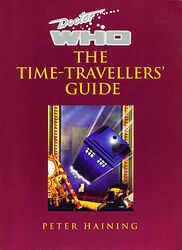 Edition:
UK (2nd paperback)
Released:
August 1995

Publisher:
Virgin
ISBN:
0-86369-927-8
Format:
paperback
Owned:
Buy:
Note: The reprint of The Key to Time mentioned on the back cover appears never to have happened — although A Celebration had indeed been reprinted the previous month.
Cover blurb:
First published in 1987, THE TIME-TRAVELLERS' GUIDE has long been out of print and has become a collector's item.
By 1987 Doctor Who was approaching its quarter-century as a mainstay of British television, and had just taken America by storm.
This was the third of Peter Haining's illustrated books about Doctor Who, and as well as updating the series' history it considers Doctor Who from several unusual angles: the historical background of time travel fiction, the Doctor's planet and people, and the enemies, worlds and space craft that the Doctor has encountered in his long career.
This book, published again in its original, unchanged form, is a piece of Doctor Who history, available to a new generation of Doctor Who fans.
Peter Haining is the author of many books about the past and television. Two of his previous books about Doctor Who, A Celebration and The Key to Time, are being reprinted. He is also the author of the Doctor Who quarter-century book 25 Glorious Years, and The Television Sherlock Holmes.