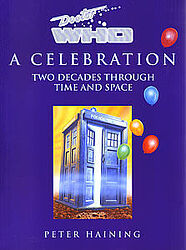 Edition:
UK (paperback)
Released:
July 1995

Publisher:
Virgin
ISBN:
0-86369-932-4
Format:
paperback
Owned:
Buy:

| | | |
| --- | --- | --- |
| | | (Unable to fetch price) |
Note: The reprint of The Key to Time mentioned on the back cover appears never to have happened — although The Time-Travellers' Guide was indeed reprinted the following month.
Cover blurb:
First published in 1983 to mark Doctor Who's twentieth birthday, A Celebration has long been out of print and has become a collector's item.
When this book was first published in 1983 Doctor Who was at its popular peak: the highest-ever viewing figures had just been achieved in Britain, and massive success in the USA was just around the corner.
Doctor Who had become established as a British institution. After two decades of popular television, the TARDIS, the Cybermen and the Doctor himself were familiar to just about everyone.
This volume, compiled by Peter Haining, traces the history of the series. It includes contributions from some of the talented people who helped to shape Doctor Who: Verity Lambert, the first producer; Barry Letts, one-time director, producer and writer; Terrance Dicks, one-time script editor and prolific author; John Nathan-Turner, who in 1983 had only recently taken over as producer of the series; and all five of the actors who had at the time played the role of the Doctor on television.
This book, republished in its original, unchanged form, is a piece of Doctor Who history, available to a new generation of Doctor Who fans.
Peter Haining is the author of many books about the past and television. After A Celebration, he went on to write more books about Doctor Who, including The Time-Travellers' Guide and The Key to Time, which are being reprinted, and 25 Glorious Years. He is also the author of Virgin Publishing's The Television Sherlock Holmes.