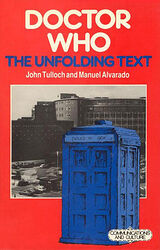 Edition:
UK (hardback)
Released:
December 1983

Publisher:
Macmillan
ISBN:
0-333-34847-8
Format:
hardback
Owned:
Buy:

| | | |
| --- | --- | --- |
| | | (Not currently available) |

| | | |
| --- | --- | --- |
| | | (Not currently available) |

| | | |
| --- | --- | --- |
| | | (Not currently available) |
Cover blurb:
On Saturday, 23 November 1963 at 5.25 p.m. the Doctor Who theme music was heard on BBC television for the first time, and just under twelve minutes later William Hartnell appeared through the London fog as the first Doctor. It was the birth of an institution. 'Doctor Who': The Unfolding Text is the first serious analysis of the BBC's longest-running fictional programme. Based on interviews with artists and production staff involved with the programme since 1963, it investigates how industrial, institutional, narrative, professional and other forces originally existing outside Doctor Who have operated to shape the series. It examines the programme's origins in the BBC's attempt to compete with commercial television, and its ability to draw on a variety of codes of performance as well as a range of genres. The reason for Doctor Who's continuing popularity and success, argue the authors, is its flexible structure — time can range over millions of years, the Doctor's companions can be replaced and even the Doctor himself can change form.
'Doctor Who': The Unfolding Text elucidates through practical demonstration analytical approaches for the student and teacher of media studies, offers valuable information for the fan, and provides intriguing insight for the general reader into the adventures of television's most famous time-lord.
John Tulloch is Associate Professor of Mass Communications, Macquarie University, Sydney, Australia. His publications include Conflict and Control in the Cinema (editor, 1977) and Australian Cinema: Industry, Narrative and Meaning (1982). He is Editor of the Australian Journal of Screen Theory.
Manuel Alvarado is Lecturer in Television and Film, University of London Institute of Education. His publications include Hazell: The Making of a TV Series (with Edward Buscombe, 1978)