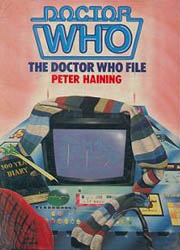 Edition:
UK (hardback)
Released:
September 1986

Publisher:
WH Allen
ISBN:
0-491-03813-5
Format:
hardback
Owned:
Buy:
Note: A luxury leather-bound limited edition (similar to those for other Haining books such as The Key To Time) was also planned for publication at the same time, and went as far as having an ISBN assigned to it (0-491-03993-X) but it appears as though this was never produced — although the ISBN is still listed on Amazon.
Cover blurb:
More than two decades after it began, Doctor Who is now the longest running TV science fiction programme in the world, and is second only to Star Trek in terms of popularity. it is therefore hardly surprising that over the years the show has attracted some of the most talented people in television: from producers and directors, to actors and writers.
In this companion volume to his two bestselling books — Doctor Who: A Celebration and Doctor Who: The Key to Time — Peter Haining unlocks the secrets of the TARDIS memory banks and explores the history of this influential show through a series of fascinating interviews and specially comissioned articles.
From pieces on the creation of the Cybermen, the difficulties in driving a Dalek, and the Doctor Who film that never was, to features on the show's writers — including Douglas Adams who went to on to script The Hitch-hiker's Guide to the Galaxy — and all six Doctors, plus the actors who were very nearly selected to play the role, The Doctor Who File is a fascinating study of a unique phenomenon.