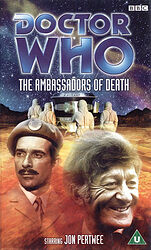 Edition:
UK (VHS)
Released:
May 2002

Publisher:
BBC Video
Format:
1 x VHS PAL
Owned:
Buy:
Note: Unusually, despite being seven episodes long, this was a single tape release — all other stories of similar length were released on 2 tapes.
Cover blurb:
When all communication is lost from Mars Probe 7 shortly after it leaves Mars and begins its trip back to Earth, a second craft is launched to investigate. As Recovery 7 docks in space, it too loses all communication...
The Doctor and UNIT are given the task of investigating the mystery, as Recovery 7 returns to Earth. It appears that no one can be trusted, as the space capsule is hijacked from its UNIT convoy with military precision. What has happened to the missing astronauts? Could this be a secret invasion from Mars, or is the enemy much closer to home?
As the Doctor plans a daring space mission of his own, his assistant Liz Shaw goes missing. Who is working against UNIT in order to bring mankind into conflict with an alien race...?
This story was originally broadcast on BBC1 between March 21 and May 2, 1970. This tape features over 90 minutes in colour, with the remaining material in black & white. Due to the archive nature of this story, the picture quality does vary slightly.