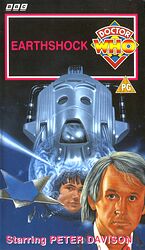 Edition:
UK (VHS)
Released:
September 1992

Publisher:
BBC Video
Format:
1 x VHS PAL
Owned:
Buy:
Cover blurb:
"So we meet again, Doctor..."
A fateful landing on Earth in the 26th century finds the TARDIS deep within a system of subterranian [sic] caves and even deeper within the mystery surrounding the brutal murder of a group of geologists working there. Who is controlling the androids guarding the hatch in the rock face? More importantly, what lies beyond the hatch?
The answers provide a serious threat for the Doctor as the time and place is set for an encounter with his old arch enemies. The Cybermen are well and truly back...
Originally transmitted 8-16 March 1982, this four part adventure sees Peter Davison, the Doctor's fifth incarnation, facing his old adversaries — the ruthless Cybermen.