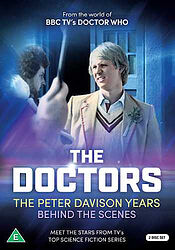 Description: DVD compilation containing the previously released Myth Makers interviews Stephen Gallagher, Barbara Clegg, Peter Grimwade, Graeme Harper, Margot Hayhoe and Dick Mills.
Cover blurb:
This is the definitive set of interviews with the production team who brought DOCTOR WHO to life and sent you "behind the sofa"!
These five [sic] documentaries are the best in-depth interviews with STEPHEN GALLAGHER (Writer), BARBARA CLEGG (Writer), PETER GRIMWADE (Writer/Director), GRAEME HARPER (Director), MARGOT HAYHOE (Production Manager) and DICK MILLS (Special Sound) ever undertaken!!
Presented by "voice of the Daleks" NICHOLAS BRIGGS and ROBERT DICK.
For all DOCTOR WHO fans, this special collector's edition is over 5 hours of pure nostalgia, which will give you a whole new insight into the making of your favourite science fiction series!

FOR MORE INFORMATION ABOUT OUR PRODUCTIONS:
www.timetraveltv.com