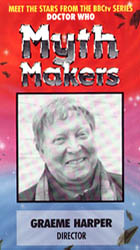 Edition:
UK (VHS)
Released:
June 2000

Publisher:
Reeltime Pictures
Format:
1 x VHS PAL
Owned:
Buy:
Cover blurb:
"CAVES OF ANDROZANI creaks to me, it's quite slow... but at the time people felt it was really kind of zappy, fast and very, very exciting."
The two DOCTOR WHO stories directed by GRAEME HARPER, THE CAVES OF ANDROZANI and REVELATION OF THE DALEKS, won instant acclaim from viewers and fans and are widely regarded as among the very best of the Doctor's adventures.
Now you can hear the story of their development from one of the most dynamic talents ever to have worked on DOCTOR WHO.
In the seventies, GRAEME worked as an Assistant Floor Manager at the BBC and worked on three Jon Pertwee DOCTOR WHO adventures, COLONY IN SPACE, PLANET OF THE DALEKS and PLANET OF THE SPIDERS. He was also Production Assistant on the highly regarded Tom Baker stories THE SEEDS OF DOOM and WARRIORS' GATE, working with directors like DOUGLAS CAMFIELD and MICHAEL BRIANT.
In between assignments on EASTENDERS and GRANGE HILL, GRAEME took time out to discuss his career with NICHOLAS BRIGGS. In a lively discussion, GRAEME talks about his career at the BBC, his hopes for the future, and reveals all about the aborted 30th anniversary special THE DARK DIMENSION.