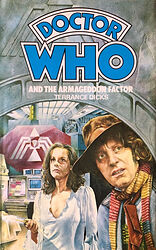 Edition:
UK (hardback)
Released:
June 1980

Publisher:
WH Allen
ISBN:
0-491-02660-9
Format:
hardback
Owned:
Buy:
Note: This was the last UK hardback novelisation to have a removable dustjacket — all future hardbacks from WH Allen (from The Curse of Peladon onwards) had laminated covers, i.e. the artwork was actually part of the cover.
Cover blurb:
No blurb on back cover. The dustjacket flaps contain the following blurb:
Unending atomic war, a vanishing planet and the sinister power of the Shadow, Master of Evil...
All these dangers and more stand between Romana and the Doctor and the last, most vital segment of the Key to Time.
Even at the moment of apparent victory the last, most terrifying peril still awaits them...
Terrance Dicks was born in 1935 and educated at East Ham Grammar School and Downing College, Cambridge.
After a spell in advertising the author became a full-time scriptwriter, first for radio, then television where for five years he was Script Editor of the 'Doctor Who' series. He is now a freelance author and writes many of the highly successful 'Doctor Who' books.
Terrance Dicks lives in Hampstead, London, is married and has three children.