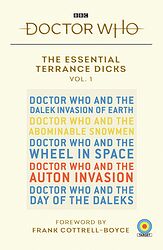 Edition:
UK (hardback)
Released:
August 2021

Publisher:
BBC Books
ISBN:
978-1-78594-664-6
Format:
hardback
Owned:
Buy:
Cover blurb:
"TERRANCE DICKS BELIEVED THAT CHILDREN DESERVED THE VERY BEST, AND THAT IF YOU GAVE THEM THE BEST, THEY WOULD GROW UP TO GIVE OF THEIR BEST. HE WAS PREPARED TO GO WITHOUT PRAISE AND PRESTIGE FOR HIMSELF JUST TO MAKE SURE WE GOT THE BEST."
- FRANK COTTRELL-BOYCE
FROM HIS FOREWORD

A CELEBRATION OF A CONSUMMATE STORYTELLER, COLLECTING FIVE OF TERRANCE DICKS'S BEST NOVELS, AS CHOSEN BY FANS.
For over 50 years, Terrance Dicks was the secret beating heart(s) of Doctor Who — from joining production of The Invasion in 1968 to his final short story in 2019. As the undisputed master of Doctor Who fiction, Terrance wrote 64 Target novels from his first commission in 1973 to his last, published in 1990. He helped introduce an entire generation to the pleasures of reading and writing, and his fans include Neil Gaiman, Sarah Waters, Mark Gatiss, Alastair Reynolds, Russell T Davies, Steven Moffat, Frank-Cottrell [sic] Boyce and Robert Webb.
This special two-volume collection, published on the anniversary of Terrance's death, features the very best of his Doctor Who novels as chosen by fans. This book contains his first novel, The Auton Invasion, as well as four other tales from the first three Doctors, featuring Daleks, Cybermen and Yeti.
WITH A FOREWORD BY FRANK COTTRELL-BOYCE, THE ESSENTIAL TERRANCE DICKS IS A MASTERCLASS IN CONTEMPORARY FICTION, BY A WRITER OF UNLIMITED IMAGINATION.

Terrance Dicks became Script Editor of Doctor Who in 1968, co-writing Patrick Troughton's classic final serial, The War Games, and editing the show throughout the entire Jon Pertwee era to 1974. He wrote many iconic episodes and serials for the show after, including Tom Baker's first episode as the Fourth Doctor, Robot; Horror at [sic] Fang Rock in 1977; State of Decay in 1980; and the 20th anniversary special, The Five Doctors in 1983. Terrance novelised over sixty of the original Doctor Who stories for Target books, including classics like Doctor Who and the Abominable Snowmen and Doctor Who and the Auton Invasion, inspiring a generation of children to become readers and writers. He died in August 2019, only weeks before the publication of his final Doctor Who short story, 'Save Yourself', in The Target Storybook.