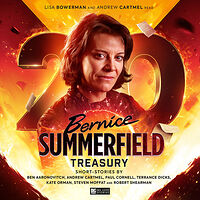 Note: Audio short story anthology — a first for the Bernice Summerfield audio range as up to now all the releases have been full-cast audio dramas rather than readings (although a couple of audio readings had been released as downloads only — not listed on this site since I only list physical releases).
Cover blurb:
Celebrating 20 years of Bernice Summerfield at Big Finish with a collection of short stories. Seven remarkable authors — one remarkable time-travelling archaeologist.
THE EVACUATION OF BERNICE SUMMERFIELD CONSIDERED AS A SHORT FILM BY TERRY GILLIAM by Ben Aaronovitch
AND THEN AGAIN by Rob Shearman
MISPLACED SPRING by Paul Cornell
SOLAR MAX AND THE SEVEN-HANDED SNAKE-MOTHER by Kate Orman
WALKING BACKWARDS FOR CHRISTMAS by Ben Aaronovitch
THE LEAST IMPORTANT MAN by Steven Moffat
BERNICE SUMMERFIELD AND THE LIBRARY OF BOOKS by Andrew Cartmel
A MUTUAL FRIEND by Terrance Dicks
PLEASE NOTE: Bernice Summerfield Treasury contains adult themes and may not be suitable for younger listeners.