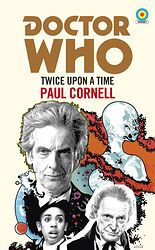 Note: Also available as an audio reading.
Cover blurb:
'Silly old universe. The more I save it, the more it needs saving.'
Still reeling from his encounter with the Cybermen, the First Doctor stumbles through the bitter Antarctic wind, resisting the approaching regeneration with all his strength. But as he fights his way through the snowdrifts, he comes across the familiar shape of a blue police box, and a mysterious figure who introduces himself as the Doctor...
Thrown together at their most vulnerable moments, the two Doctors must discover why the snowflakes are suspended in the sky, why a First World War Captain has been lifted from his time stream moments before his death, and who is the mysterious Glass Woman who knows their true name.
This novel is based on a Doctor Who story which was originally broadcast on 25 December 2017.
Featuring the Twelfth Doctor as played by Peter Capaldi and the First Doctor as played by David Bradley