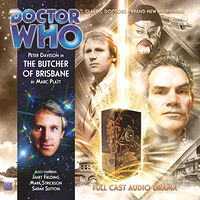 Cover blurb:
Adopting the alias of Weng-Chiang, the 51st century war criminal Magnus Greel will one day arrive in Victorian London by Time Cabinet — only to meet his doom, his plans undone by the Time Lord known as the Doctor.
The Doctor never believed he'd meet Greel again. But when a TARDIS trip to companion Tegan's home town goes wrong, the Doctor ends up in the younger Greel's heyday — in a world on the brink of all-out war.
With the Doctor at the mercy of Greel's alien associate Findecker and his army of mutations, Tegan is about to learn just why they called Greel 'The Butcher of Brisbane'...