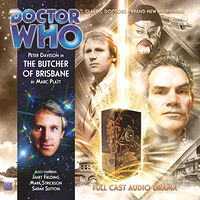 | | | |
| --- | --- | --- |
| | | |
| | Reviews for The Butcher of Brisbane | |
| | | |
There are 3 reviews so far. To add a review of your own for this item, visit the voting page.
| | | |
| --- | --- | --- |
| | | |
| | Sowing the seeds for the future | |
| | | |
By:
Clive T Wright, St Lawrence, United Kingdom
Date:
Saturday 14 July 2012
Rating:
10
I was nervous at first knowing this story's links to Tom Bakers past and perhaps best loved story. But this quickly becomes a powerfull and well constructed story. Tegan & Nissa are given real room to develop in an atmospheric plot, which builds and builds.
By:
Andrew Shaw, Newcastle upon Tyne, United Kingdom
Date:
Sunday 13 March 2016
Rating:
10
This was a great story best one in a while< I like going back to hear about TV characters and in my opinion this didnt disappoint, I recommend it and if you like Talons of Weng Chiang even better.
By:
David Layton, Los Angeles, United States
Date:
Saturday 24 February 2018
Rating:
9
Though many listeners will probably liken this story most to "Enemy of the World," its icy grimness kept reminding me of "Spare Parts." The TARDIS gets zapped by one of the Zigma experiments of the 51st century, which ends up splitting Nyssa and Turlough from The Doctor and Tegan not by distance but by years, three of them to be precise. While waiting for The Doctor to turn up, Nyssa and Turlough become spies for the Earth coalition opposing the infamous Minister of Justice, Magnus Greel. This cloak and dagger story offsets the story of The Doctor, who knows what will happen historically and is doing his very best to keep as many people safe as possible while neither interfering with time nor giving away just how much he knows. The ties to "Talons of Weng-Chiang," to which this becomes the prequel, are tastefully and unobtrusively handled. Special attention goes to Angus Wright, who is superb as Magnus Greel, making him both horrifying and pitiable at the same time. The only drawback to the story for me was that The Doctor remains cagey about what knows long after there is any real need to hide the knowledge. Other than that, this is truly an excellent production.