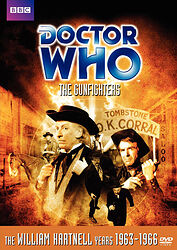 Note: This story was only released separately in the US. In the UK and Australia it was instead released as part of the Earth Story box set, along with The Awakening.
Cover blurb:
Tombstone, Arizona, 1881. The air is filled with the sounds of shooting, cussing, and toe-tapping tunes knocked out on the battered piano at the Last Chance Saloon. And then there is something less familiar: the wheezing, groaning sound of a Police Box materializing.
The Doctor and his companions aren't the only newcomers in town. The Clanton brothers have ridden in to settle a grudge with Doc Holliday, the notorious gambler, drinker, and dentist. In the Wild West, tempers are short, guns are swift, and a moment's hesitation on the draw can mean death...
DVD EXTRAS INCLUDE:
Audio Commentary by actors Peter Purves (Steven), Shane Rimmer (Seth Harper), David Graham (Charlie), Richard Beale (Bat Masterson), production assistant Tristan de Vere Cole, and moderator Toby Hadoke (Moths Ate My Doctor Who Scarf)
The End Of The Line — A new documentary about the turbulent third year of Doctor Who (43 mins)
Tomorrow's Times: The First Doctor — Contemporary press coverage (14 mins)
Photo Gallery (4 mins)
PDF Materials: Radio Times Listings
Productions Notes Subtitle Option
Digitally remastered picture and sound quality
Originally transmitted April 30 - May 21, 1966