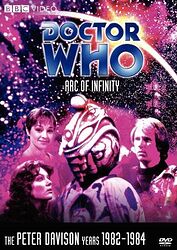 Note: This story was only released separately in the US. In the UK and Australia it was instead released as a box set along with Time-Flight. Also included as an extra on the DVD, but not mentioned on the back cover, is a commentary by Peter Davison, Sarah Sutton, Janet Fielding and Colin Baker.
Cover blurb:
Travelling with Nyssa in the TARDIS, the Doctor is attacked by a malign entity — a being of pure anti-matter seeking to cross the dimensions. Although the invader is successfully repelled, the TARDIS is immediately recalled to Gallifrey, where the High Council of Time Lords sentence the Doctor to be executed to prevent any further attempts at bonding.
It seems there is a traitor on Gallifrey. And what links the Renegade and the disappearance of Tegan's cousin in Amsterdam? Two fates intertwined must battle for the future of the entire universe...
DVD EXTRAS INCLUDE:
Anti-Matter from Amsterdam Presented by Sophie Aldred, this new documentary examines the making of Arc of Infinity. Featuring actors Peter Davison, Colin Baker and Sarah Sutton.
The Omega Factor Writers and actors look at the character and motivation of the renegade Time Lord, Omega. Featuring co-creator Bob Baker, actors Stephen Thorne and Ian Collier.
Deleted Scenes Deleted scenes taken from time-coded viewing copies of the studio recordings and early edits.
Under Arc Lights Behind-the-scenes action from the studio recording sessions.
CGI Effects Viewers have the option to watch the story with eighteen of the original video effects sequences replaced by brand new CGI versions.
Continuities Original BBC1 continuity announcements for the story.
Photo Gallery A selection of rare and previously unpublished photographs from the recording of this story.
Isolated Music The option to watch the story with the original synchronous music only.
Radio Times Billings (PDF DVD-ROM)
1983 Doctor Who Annual (PDF DVD-ROM)
Production Subtitles Subtitles provide the viewer with cast details, script development and other production information, offering further insight into the making of this story.
Digitally remastered picture and sound quality
Originally transmitted January 3, 1983 — January 12, 1983