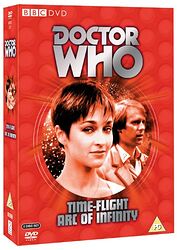 Edition:
UK (DVD)
Released:
August 2007

Publisher:
BBC Video
Format:
2 x DVD
Owned:
Buy:
Cover blurb:
Time-Flight
The TARDIS arrives by accident in the middle of Terminal One at Heathrow Airport. One of the supersonic Concordes has disappeared mid-air and the Doctor, Tegan and Nyssa soon become involved in a hunt for a missing aeroplane. But what connects its disappearance to prehistoric Earth and why is a mysterious sorcerer so interested in the Doctor's TARDIS? A flight through time will reveal all.
Arc of Infinity
Travelling with Nyssa in the TARDIS, the Doctor is attacked by a malign entity — a being of pure antimatter seeking to cross the dimensions. Although the invader is successfully repelled, the TARDIS is immediately recalled to Gallifrey, where the High Council of Time Lords sentence the Doctor to be executed to prevent any further attempts at bonding.
It seems there is a traitor on Gallifrey. And what links the Renegade and the disappearance of Tegan's cousin in Amsterdam? Two fates intertwined must battle for the future of the entire universe...