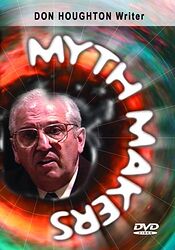 Cover blurb:
"It was wonderful to throw ideas around and not have them thrown back at you and sort of say, 'Well that's crazy' or 'That's stupid!'"
One of the great benefits that filming DOCTOR WHO conventions can bring is, on occasion, an irreplaceable moment in history.
At the Doctor Who Appreciation Society's PantoptiCon 8, held at Imperial College, London in 1987, writer DON HOUGHTON appeared on stage with BARRY LETTS, TERRANCE DICKS and BOB BAKER.
DON sadly died in 1991, so this special MYTH MAKERS is our tribute to a talented writer who wrote two memorable stories for the third Doctor... INFERNO and THE MIND OF EVIL.
As a bonus feature, we've included an interview with writer PHILIP MARTIN, recorded at PanoptiCon 8.
Another very special MYTH MAKERS...
SPECIAL FEATURES
Biographies and Bonus Interview Footage.