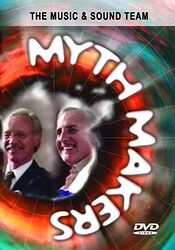 Cover blurb:
"Dudley's musicianship, plus the flexibility of live performers, plus the electronics from our Workshop, seemed to be, as far as DOCTOR WHO was concerned, the best mix all round."
Dick Mills
One of the great benefits that filming DOCTOR WHO conventions can bring is, on occasion, an irreplaceable moment in history.
At the Doctor Who Appreciation Society's PantoptiCon 7, held at Imperial College, London in 1986, two legends from the music and sound production of DOCTOR WHO appeared on stage.
Composer DUDLEY SIMPSON and Special Sound creator DICK MILLS were interviewed by DAVID J HOWE about their working relationship on DOCTOR WHO that spanned over 15 years.
As a bonus, we've included another panel with DICK MILLS, including MARK AYRES, DOMINIC GLYNNE [sic] and KEFF McCULLOCH from PanoptiCon 9.
Another very special MYTH MAKERS...
SPECIAL FEATURES
Biographies and Bonus Interview Footage.