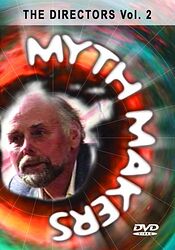 Description: DVD containing interview footage of the Doctor Who directors Michael E. Briant and Christopher Barry, filmed at the PanoptiCon 7 convention in 1986. Sequel to The Directors Vol. 1, which was originally released on VHS in 1997.
Cover blurb:
"You were doing things that people hadn't done before... there wasn't another science fiction programme around."
Michael Briant
One of the great benefits that filming DOCTOR WHO conventions can bring is, on occasion, an irreplaceable moment in history.
This MYTH MAKERS special features directors CHRISTOPHER BARRY and MICHAEL BRIANT on stage at PanoptiCon 7 in 1986. Interviewed by CHRIS DUNK, CHRISTOPHER and MICHAEL give a unique insight into the challenges and rewards of directing DOCTOR WHO.
But this isn't all! As a bonus feature we've included a panel from PanoptiCon 8, featuring DAVID BANKS, ANDREW SKILLETER, SANDRA REID and ALISTAIR [sic] PEARSON, the main subject of which is the (then) upcoming CYBERMEN book.
Another very special MYTH MAKERS...
SPECIAL FEATURES
Biography and Bonus Material.