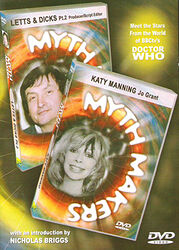 Note: DVD re-release of two interviews that were originally released separately on VHS: Myth Makers: Katy Manning and Myth Makers: Barry Letts & Terrance Dicks: Part 2. The Katy Manning interview was later re-released again as part of The Doctors: The Jon Pertwee Years.
Cover blurb:
DOUBLE THE VALUE!
KATY MANNING — Jo Grant
"Don't ask me what's wrong with me when it's wrong with me — because I'll make something up."
A quote from Katy's play Not a Well Woman
Until this MYTH MAKERS, most DOCTOR WHO fans (when asked about KATY MANNING) would have said, "Where is she?"
Well we found her, and what's more we dragged her onto the set of LUST IN SPACE to make a guest appearance... and, being the practical people we were (and are!), we thought it wise to record a MYTH MAKERS at the same time. So that's what we did... and here it is.
BARRY LETTS — Producer & TERRANCE DICKS — Script Editor Pt. 2
"We wanted civilizations, not something nasty and ugly that lurked behind a rock and would probably eat you."
For the first time ever, MYTH MAKERS decided to shoot a second interview with one of its subjects. Last time, NICHOLAS BRIGGS found he had so much to discuss with BARRY and TERRANCE about their time on DOCTOR WHO that he ran out of time!
So here, just as packed with information and lively debate as Part 1, we continue the story... so far.
SPECIAL FEATURES
Introduction by NICHOLAS BRIGGS and KEITH BARNFATHER.
Biography of all featured artists.