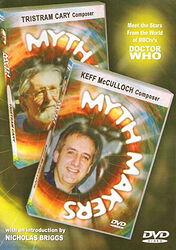 Note: DVD re-release of two interviews that were originally released separately on VHS: Myth Makers: Keff McCulloch and Myth Makers: Tristram Cary
Cover blurb:
DOUBLE THE VALUE!
KEFF McCULLOCH - Composer
"I was doing albums during the day... and literally TIME & THE RANI I was doing all through the night... so I was totally exhausted!"
KEFF McCULLOCH was surrounded by music during his childhood, this eventually led to his joining PICKITY WITCH and later THE CLIMAX BLUES BAND and a successful career as a musician.
So how did this lead to writing the updated theme music for DOCTOR WHO and incidental music for stories in all three SYLVESTER McCOY seasons? How did he cope with both the pressurised schedule and the criticism he has received?
TRISTRAM CARY - Composer
"The danger at the BBC was - if you left a tape lying around, somebody would put a library stamp on it in five minutes flat!"
During the 1950's, TRISTRAM CARY was one of the few composers at the cutting edge of electronic music. In 1963 he provided the perfect musical complement to TERRY NATION's script for THE MUTANTS. His abrasive, searing score brought the DALEK's world to life and played a large part in DOCTOR WHO's success.
Here in a rare interview, TRISTRAM tells us about those early days working in electronic music and the other DOCTOR WHO scores he worked on.
SPECIAL FEATURES
Introduction by NICHOLAS BRIGGS and KEITH BARNFATHER.
Biography of all featured artists.