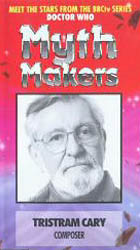 Edition:
UK (VHS)
Released:
August 2002

Publisher:
Reeltime Pictures
Format:
1 x VHS PAL
Owned:
Buy:
Cover blurb:
"The danger at the BBC was — if you left a tape lying about somebody would put a library stamp on it in five minutes flat!"
Tristram Cary was born at Oxford in 1925 to parents immersed in the academic world.
He studied music, interrupted by service in the Royal Navy during the Second World War, and was one of the early pioneers of tape recording music.
During the 1950's he was one of the few composers at the cutting edge of electronic music. In 1963, he provided the perfect musical complement to Terry Nation's script for The Mutants — his abrasive, searing score brought the Daleks' world to life and played a large part in the success of Doctor Who.
Here, in a rare interview, Tristram tells us about those early days working in electronic music and the other Doctor Who scores he worked on.
And Tristram also reveals the highlights of a career that's included major concert works, plus film, television, radio and books. Over fifty years of creative endeavor, including a move to teaching music in Adelaide, Australia in the 1970's.
An amazing man with an amazing talent...