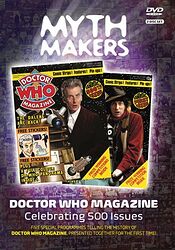 Note: Region 0. Compilation of the previously-released Doctor Who Magazine Myth Makers DVDs. Unlike most of Reeltime's Myth Makers releases, this is a "proper" mass-produced DVD, not a DVD-R.
Cover blurb:
FIVE SPECIAL PROGRAMMES TELLING THE HISTORY OF DOCTOR WHO MAGAZINE PRESENTED TOGETHER FOR THE FIRST TIME!
The very first issue of Doctor Who Magazine, then titled Doctor Who Weekly, was published in October 1979. 500 issues and 37 years later, the magazine has gone through many changes, both in its content and also in the way it is produced.
But the continuing themes have been its objective reporting of news and the reviewing of Doctor Who itself... and its unique comic strip.
In an exclusive series of productions, MYTH MAKERS has tracked this amazing story and 2016 sees the release of the fourth title looking at Doctor Who Magazine as it celebrates its 500th issue.
Previous productions have celebrated the 10th, 20th and 25th anniversaries of the magazine.
For the very first time in this special box set, we bring all four of these MYTH MAKERS together, offering fans of the magazine a chance to meet virtually everyone who made the magazine the success it has become, from first editor DEZ SKINN to current editor TOM SPILSBURY.
As a bonus, also included is a MYTH MAKERS special: a convention panel of members of the then Doctor Who Magazine production team recorded in 1989.
SPECIAL FEATURES Video messages from the stars