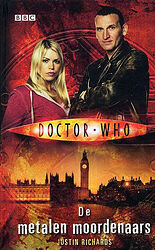 Edition:
Netherlands (hardback)
Title:
De Metalen Moordenaars
Released:
October 2006

Publisher:
Memphis Belle
ISBN:
90-5159-610-3
Format:
hardback
Owned:
Buy:
Note: The Dutch title translates as "The Metal Murderers". Only one other new series novel was published in the Netherlands: The Monsters Inside.
Cover blurb:
In de jaren '20 van de vorige eeuw raken de Doctor en Rose betrokken bij de jacht op een mysterieuze mordenaar. Maar niet alles is zoals het lijkt. Afgesloten kamers bevatten geheimen en door de straten zwerven moordende robots.
Wie is de Beschilderde Dame en waroom is ze zo in de Doctor geinteresseerd? Hoe kan een kat uit de dood opstaan? Is er iemand te vertrouwen? Vertelt, of weet zelfs maar iemand de echte waarheid?
Terwijl de gezichtsloze moordenaars steeds dichterbij komen, moeten de Doctor en Rose het mysterie van de metalen moordenaars oplossen voordat Londen zelf wordt vernietigd...
Met de Doctor en Rose, gespeeld door Christopher Eccleston en Billie Piper in de bekende televisieserie van de BBC, in Nederland uitgezonden door de VARA en in België door Canvas.