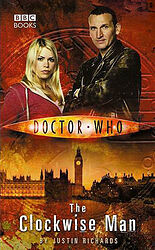 | | | |
| --- | --- | --- |
| | | |
| | Reviews for The Clockwise Man | |
| | | |
There are 20 reviews so far. To add a review of your own for this item, visit the voting page.
| | | |
| --- | --- | --- |
| | | |
| | Not as kiddie as you might think! | |
| | | |
By:
Joe Ford, Eastbourne
Date:
Sunday 15 May 2005
Rating:
9
This was much better than I dared to hope for, for I feared that with the reduced page count and the new kiddie audience to cater for we would be dealing with dumbed down novels. This is another great Justin Richards book with his trademark twists and ability to capture the early twentieth century so atmospherically but with a re-captured sense of zest and fun that has been lakcing in his past few books.

The Doctor and Rose are captured beautifully and the guests characters all have something to contribute.

The Big Ben staged climax is rather brilliant, especially when the Dooctor is smashed through the clock face. Fantastic!

| | | |
| --- | --- | --- |
| | | |
| | Captures the spirit of the new series | |
| | | |
By:
simon, Bristol
Date:
Sunday 7 August 2005
Rating:
7
This captures the spirit of the new series well. The Doctor and Rose have some great banter, the strength of Rose comes through and there's even a Bad Wolf moment. The plot has the same paciness as we've come to expect from the Ninth Doctor, although hasn't Big Ben already had a central role in the action in Aliens of London? A small grip about a really good fun book.
By:
Georgina, London
Date:
Monday 15 August 2005
Rating:
10
The Clockwise Man is a Fantastic read ! It was exciting, puzzling and brilliantly written. The storyline was dark yet mysterious. I just couldn't put the bok down . I would give this book 10/10 !!
| | | |
| --- | --- | --- |
| | | |
| | Satisfying, but could it be more? | |
| | | |
By:
Siskoid, Moncton, NB
Date:
Friday 14 October 2005
Rating:
7
The Clockwise Man was enjoyable as I read it, but fell apart in my mental analysis once it was all over. Filling, but not nutritious, I suppose.

Among its strengths, I count an appropriately melancholy Doctor, great mood throughout, frequent enough twists and turns, and the reappearance of both bad wolf and Big Ben (placing this in Year 1, it makes the clock tower a better nexus point).

The book produces some nice moments and images, mostly centered around the Painted Lady. Oh, and I LOVE the way the cats are portrayed, a sure sigh that the author knows cats well (just something that resonates with me).

The clockwork stuff, well, sometimes it works, and sometimes it doesn't. I've been exposed to better steam-punk, and I wish Justin either made it more realistic, or gone way over the top (like an entire steamtech planet).

Among its weaknesses, there's the hard to follow political plot (in the sense that it's hard to know who's who at first) and, having started on The Monsters Inside where the Doctor and Rose are incredibly witty, a poor representation of their banter. It's cheeky, but not fast-paced or funny enough. That, and the final action scene isn't as well written as the rest, with a total change of attitude for the villain of the piece.

Overall: A quality novel, but suffers from being out first, with the protrayal of the main characters too demure. But well drawn setting and mood.
By:
Manny, Los Angeles, America
Date:
Sunday 16 April 2006
Rating:
8
The Clockwise Man is another book that really reads past well and into great. It had all the elements that keep you turning page after page.

It was a real treat, to see the Doctor and Rose go back to London in 1920 and know what London would be like now; years from the 1920s. At times when those moments are told in the story, it also feels as if you were there too. A nice wink if you've ever been to London.

The other characters in this book are also not just there to tell the story but there to pull you in. You grow to the point of feeling for them and getting your heart to race when the danger rides in.

A great book and one that shouldn't be passed down.

By:
del, south wales
Date:
Sunday 2 July 2006
Rating:
10
Didnt think I was gonna like this that much. But what can I say..FANTASTIC
By:
Hatman, shizzle
Date:
Thursday 27 July 2006
Rating:
7
Has a guest appearance from THE CAT himself. the story was quite good. usually.
By:
the Traveller, I'm back - hooray!
Date:
Sunday 30 July 2006
Rating:
10
Before I go swadding off back to TV.com and pastures green, I just wanted to say that this book was fantastic, absolutely fantastic. And you know what? So am I!

Anyway, Justin Richards - fab author. Lots of blood too, especially concerning *SPOILERS* young haemophiliac Freddie - oh, come on, he's a hero. See yah!
By:
The Next Doctor, Sunderland
Date:
Monday 22 January 2007
Rating:
8
Absolutley Fantastic!! Didn't put it down for two straight days
| | | |
| --- | --- | --- |
| | | |
| | An intelligent novel, not a rehash | |
| | | |
By:
Steve Gray, London, England
Date:
Wednesday 14 November 2007
Rating:
8
Very well written, excellent characterisation and an intelligent well thought out plot.

Highly recommended.
| | | |
| --- | --- | --- |
| | | |
| | Wow!!!!!!!!!!!!!!!!!!!!!!!!!!!!! | |
| | | |
By:
Zoey, Windera, Australia
Date:
Friday 11 January 2008
Rating:
10
This book is absolutly fantastic! It's excellent! Justin Richards is an absolute genius. He so descriptive. You think you kow exactly was going happen then it's the exact opposite. I loved it! Another Doctor Who book I couldn't put down. I was brillient!

The charactors made this book. I mean the book wouldn't be nealy what it is if Freddie wasn't in it. He's so brave, braver than my ten year old bother anyway. Feddie was as much the hero of the story as the Doctor. The painted lady, Repple and Wyse suprised me so much all of then turnned out to be the exact opposite of what I thought.

Rose still hasn't lost her touch. She was the hero just as much as the Doctor. As for the Doctor, he is just unexplainable in this novel.

This book is nostop action throughout the entire book. It is excellent! Comes very, extremly, highly recomended from me.

Please excuse the spelling mistakes?
By:
Aaron, Canada
Date:
Saturday 12 January 2008
Rating:
7
This was a good first outing. However many of the characters just didn't feel fleshed out to me. There was more to learn and the opportunity just never seemed to come around. I enjoyed it, it was fun but they could do better.

The painted lady and the clockwise men were highlights for me, but again both just were not used as well as they might have been.
By:
Gazza, South wales
Date:
Sunday 27 January 2008
Rating:
7
a very good start to the BBC Doctor who books range.

Was quite exiting but it could get boring at times.

But made me want to read more anyway which means it can't be that bad.

All in all. good start.
By:
antony, uk
Date:
Wednesday 6 February 2008
Rating:
8
Good book. Clockwork thngs and an evil plot revolving around Big Ben! Is it me or do aliens just love doing something that involves Big Ben! The Slitheen blast a dirty great big hole in it in Aliens of London and now this!
this book is griping and very exciting. i hope justin richards'other books are as good
By:
Tim, Australia
Date:
Tuesday 22 July 2008
Rating:
10
Really quite a superb mystery, not what I usually look for in a book but I found it quite satisfying. It might not secessarily been what other people appreciate... which is the only reason I can think of that the rating isn't higher.

Even with the numerous characters and the various elements of the story they represented, it was not difficult to keep track of them and the constant interaction between them all and the Doctor and Rose provided a gripping storyline.

I did find the Doctor and Rose to be just a little off character, but this was set early in Season 1 and written just as the show was getting on it's feet - their characters continued to develop after this book was written. There wasn't very much humour but when it was there it was definitely in the style that Rose and the 9th Doctor shared.

Overall the plot was complex but smoothly carried off, the original characters compelling and the final result entertaining. Definetly scoring a 10 from me.
By:
Beth, Madison, Ohio
Date:
Tuesday 12 August 2008
Rating:
9
This was a great adventure :D
By:
siobhan, kingussie
Date:
Thursday 2 October 2008
Rating:
10
it was great to read. i like when the doctor just have fun will he try and figer it owt

i love the docter
By:
Evert Joosse, Netherlands
Date:
Sunday 9 January 2011
Rating:
9
Having been a fan of the series for years both the classic tv show as well as the BBC novels, I was reluctant to start reading a book based on the new series.

I was most pleasantly surprised at this book. The story drew me in straight away, as both the Doctor and Rose as well as the supporting characters are extremely well written.

The story also has a habit of turning around and suddenly being different. Normally that might just get annoying, but with this one, it just keeps getting better.

A big two thumbs up. In the words of the 9th Doctor: Fantastic!
| | | |
| --- | --- | --- |
| | | |
| | Reasonable but not great. | |
| | | |
By:
Jade Teague, Gold Coast, Australia
Date:
Thursday 21 July 2011
Rating:
6
Good author and story but its not so exciting that you would want to read it more than a few times. Worth reading though.