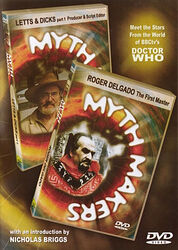 Note: DVD re-release of two interviews that were originally released separately on VHS: Myth Makers: Roger Delgado and Myth Makers: Barry Letts & Terrance Dicks
Cover blurb:
DOUBLE THE VALUE!
ROGER DELGADO — The First Master
"Those eyes would put the fear of God up you and yet the moment we finished a scene we had our arms around each other's shoulders... we were tremendously close."
Jon Pertwee
ROGER DELGADO appeared in only eight DOCTOR WHO stories, but today he is fondly remembered as creating one of the most exciting characters to grace the series.
As The Master, ROGER was the perfect nemesis for JON PERTWEE's Doctor and in this special MYTH MAKERS many of the team from that era, including JON PERTWEE, NICHOLAS COURTNEY, BARRY LETTS, PAUL BERNARD and SHAUN SUTTON, recall ROGER's time with the show and his career in television and films.
BARRY LETTS — Producer
& TERRANCE DICKS — Script Editor Part 1
"We were always trying to get away from the feeling that, 'here's a man in a rubber suit.'"
Producer BARRY LETTS and Script Editor TERRANCE DICKS were the creative force that shaped JON PERTWEE's era as DOCTOR WHO. This unique behind-the-scenes partnership brought the programme some of its highest viewing figures.
The enthusiasm of LETTS & DICKS for DOCTOR WHO remains undiminished as they talk with passion, humour and candour to NICHOLAS BRIGGS about their work on the programme during the early 1970s.
SPECIAL FEATURES
Introduction by NICHOLAS BRIGGS and KEITH BARNFATHER.
Biography of all featured artists.