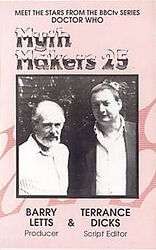 Edition:
UK (1st VHS)
Title:
Myth Makers 25: Barry Letts & Terrance Dicks
Released:
March 1993

Publisher:
Reeltime Pictures
Format:
1 x VHS PAL
Owned:
Buy:
Cover blurb:
"We were always trying to get away from the feeling that, 'here's a man in a rubber suit.'"
Producer BARRY LETTS and Script Editor TERRANCE DICKS were the creative force that shaped JON PERTWEE's era as DOCTOR WHO. This unique behind the scenes partnership brought the programme some of its most consistently high viewing figures.
Even today, the enthusiasm of LETTS and DICKS for DOCTOR WHO remains undiminished as they talk with passion, humour and candour to NICHOLAS BRIGGS about their work on the programme during the early 1970's.
You may feel this fascinating and lively discussion's only shortfall is that it doesn't last long enough!