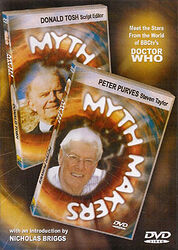 Note: DVD re-release of two interviews that were originally released separately on VHS: Myth Makers: Peter Purves and Myth Makers: Donald Tosh. The Peter Purves interview was later re-released as part of The Doctors: The Hartnell Years.
Cover blurb:
DOUBLE THE VALUE!
PETER PURVES — Steven Taylor
"I've got a CV as long as your arm about things I've done in TV... There's probably very few people who've got a CV as involved and different... I'm proud of that."
PETER PURVES is instantly recognised by millions as a presenter of children's and factual television programmes, the most famous being BLUE PETER.
What most people don't know is that PETER spent many years as an actor before BLUE PETER changed his life. One of those acting parts was as STEVEN TAYLOR in DOCTOR WHO.
In his country home, PETER chats to NICHOLAS BRIGGS about his long and varied career including: his casting in DOCTOR WHO, his frustration as STEVEN's character was watered down, working with WILLIAM HARTNELL and life as a producer in his own right.
DONALD TOSH — Script Editor
"Gerry Davis and I really did not see eye to eye for a minute on anything to do with DOCTOR WHO."
DONALD TOSH joined the DOCTOR WHO production team as Script Editor (then titled Story Editor) in 1965. He and JOHN WILES faced the formidable task of taking over from VERITY LAMBERT and building on the success she had made the series.
Thrown in "at the deep end", DONALD found himself faced with a cast under pressure as WILLIAM HARTNELL's health deteriorated and his performance suffered.
Despite these problems, DONALD supervised some memorable stories including GALAXY 4 and THE DALEKS' MASTERPLAN. He was also the first to consider ways of writing WILLIAM out of the series...
SPECIAL FEATURES
Introduction by NICHOLAS BRIGGS and KEITH BARNFATHER.
Biography of all featured artists.