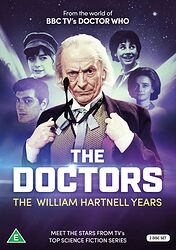 Description: Compilation of the previously-released Myth Makers interviews with Carole Ann Ford, William Russell, Peter Purves and Jackie Lane, as well as the Jacqueline Hill tribute and William Hartnell tribute.
Cover blurb:
This is the definitive set of interviews with the team of actors who brought the WILLIAM HARTNELL era of DOCTOR WHO to life!
Together with a special tribute to WILLIAM HARTNELL (the Second [sic] Doctor), containing messages from a host of stars and production staff from DOCTOR WHO, this DVD also features the best in-depth interviews ever undertaken with, CAROLE ANN FORD (Susan), JACQUELINE HILL (Barbara), WILLIAM RUSSELL (Ian), PETER PURVES (Steven) and JACKIE LANE (Dodo).
Presented by "voice of the Daleks" NICHOLAS BRIGGS.
For all DOCTOR Who fans, this 2 DISC special collector's edition is 5 hours of pure nostalgia, which will give you a whole new insight into the making of your favourite science fiction series!
SPECIAL FEATURE
Introduction by NICHOLAS BRIGGS & Producer KEITH BARNFATHER