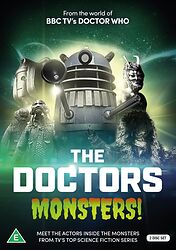 Note: Region 0 NTSC disc. DVD compilation of previously-released material, including the documentary I Was a Doctor Who Monster, plus the Myth Makers interviews with Ray Cusick, Cy Town, Michael Wisher, David Banks and Jack Pitt.
Cover blurb:
This is the definitive set of interviews with the team of unsung heroes who brought the monsters in DOCTOR WHO to life and sent you "behind the sofa"!
This special release contains I WAS A DOCTOR WHO MONSTER!, hosted by the Seventh Doctor SYLVESTER McCOY, and five in-depth interviews with RAY CUSICK (Dalek Designer), CY TOWN (Dalek Operator), MICHAEL WISHER (Davros), DAVID BANKS (Cyberleader) and JACK PITT (Monster Man)!
Meet a menagerie of people who played monsters as diverse as VOORD, DALEKS, CYBERMEN, YETI, FISH PEOPLE and MARSHMEN... the list is endless!
For all DOCTOR Who fans, this 2 DISC special collector's edition is 5 hours of pure nostalgia, which will give you a whole new insight into the making of your favourite science fiction series!
SPECIAL FEATURE
Introduction by NICHOLAS BRIGGS & Producer KEITH BARNFATHER