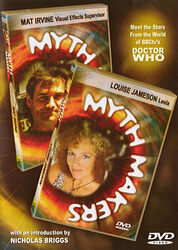 Description: DVD re-release of two interviews that were originally released separately on VHS: Myth Makers: Louise Jameson and Myth Makers: Mat Irvine.
Cover blurb:
DOUBLE THE VALUE!
LOUISE JAMESON — Leela
"I was forever crossing out 'Leela screams' — Leela doesn't scream, she only screams when a giant rat eats her!"
LOUISE JAMESON is one of the most accomplished and successful actresses to have portrayed an assistant in DOCTOR WHO. As LEELA, a warrior of the Sevateem tribe, she accompanied TOM BAKER in some of the most popular DOCTOR WHO stories.
NICHOLAS BRIGGS joins LOUISE on a trip through Victorian England where they discuss, amongst other things, her fight to keep LEELA's character intact after her first story THE FACE OF EVIL.
We also feature the many faces of LOUISE the actress, including readings from Virgin Books DOCTOR WHO novelisations.
MAT IRVINE — Visual Effects Supervisor
"We seemed always to be building communicators or guns, which made you think that when the Doctor met an alien all he did was talk to them — or shoot them!"
Now working freelance with his own production company, MAT IRVINE's career began with BBCtv News at Alexandra Palace and progressed to the Visual Effects Department in West London, where he worked on such classic science fiction programmes as DOCTOR WHO and BLAKE'S 7.
But as MAT will tell you, science fiction is only one area visual effects are required for — factual, light entertainment and comedy programmes were the bread and butter of the department.
Over the years MAT has amassed a diverse collection and, in this treasure trove of a Myth Makers, we get to see what's in his attic!
SPECIAL FEATURES
Introduction by NICHOLAS BRIGGS and KEITH BARNFATHER.
Biography of all featured artists.