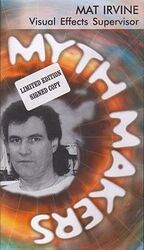 Edition:
UK (VHS)
Released:
December 2000 (Exact date unconfirmed)

Publisher:
Reeltime Pictures
Format:
1 x VHS PAL
Owned:
Buy:
Note: The reason this has a different design to the other Myth Makers VHS releases is because it was part of a separate non-Doctor Who range of interviews launched by Reeltime Pictures in 2000 — hence the mention on the cover blurb about "this new series of Myth Makers".
Subtitled "Meet the stars of science fiction, fantasy and horror", 15 such VHS interviews were released by Reeltime between 2000 and 2005 before they wound up the range. Interviewees included actors and crew from sci-fi franchises such as Star Trek, Star Wars and Blake's 7. This is the only one of those 15 interviews listed on this site, since Mat Irvine had an extensive Doctor Who career in addition to his work on Blake's 7.
With the retirement of VHS, these two ranges have effectively been merged: their DVD reissues are nowadays all listed together on the Reeltime Pictures web site (the non-Who interviews are #58 to #72 in Reeltime's current numbering scheme).
Cover blurb:
MEET THE STARS OF SCIENCE FICTION, FANTASY AND HORROR!
"We seemed always to be building communicators or guns, which made you think that when The Doctor met an alien all he did was talk to them — or shoot them!"
Now working freelance with his own company, MAT IRVINE's first job was with BBCtv News, then based at Alexandra Palace. It was so long ago he's not prepared to tell us when!
In a long and distinguished career, MAT progressed to the Visual Effects Department and worked on such classic science fiction programmes as DOCTOR WHO and BLAKE'S 7.
But as MAT will tell you, science fiction is only one area visual effects are required for — factual, light entertainment and comedy programmes were the bread and butter of the department.
Over the years MAT has amassed a diverse collection of items and in this treasure trove of a Myth Makers we get to see what's in his attic!
This new series of Myth Makers is hosted by writer and actor NICHOLAS BRIGGS and is a spin-off from the highly successful Myth Makers interviews with the stars of BBCtv's Doctor Who.