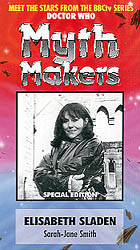 Edition:
UK (limited VHS)
Title:
Myth Makers: Elisabeth Sladen - Special Edition
Released:
April 2001

Publisher:
Reeltime Pictures
Format:
1 x VHS PAL
Owned:
Buy:
Note: Limited to 600 signed copies. Most other Myth Makers releases also had signed limited editions (usually of 200 copies), but they all had identical contents and identical sleeves, with a sticker simply added to the front to denote that the release had been signed — hence why those limited editions aren't listed separately on this site. This release differed in that it contained an extra 15 minutes of footage, and had a different sleeve, with a different cover blurb, inner sleeve notes and "Special Edition" lettering on the front.
Cover blurb:
SPECIAL 50th ANNIVERSARY LIMITED EDITION, EXTENDED, WITH INNER SLEEVE NOTES & SIGNED!
"I never thought she was anything like me... but she had attributes that I would have liked to have had in spades."
This special edition of Myth Makers marks our fiftieth DOCTOR WHO release and celebrates the life and work of an actress who portrayed one of the DOCTOR's most popular assistants.
As SARAH-JANE SMITH, an inquisitive and brash young freelance journalist, ELISABETH SLADEN created a character that was both new and real, someone who captured the hearts of millions of fans worldwide.
Over three years and eighteen stories she travelled with two DOCTORS and met countless alien monsters before finally deciding to remain on Earth at the conclusion of THE HAND OF FEAR.
Recorded at the locations used for her very first story, THE TIME WARRIOR, ELISABETH talks to NICHOLAS BRIGGS about DOCTOR WHO, her life, career and family in one of the most open, frank and revealing interviews she has ever given.
Limited to 600 copies, especially extended to 70 minutes, directed by acclaimed DOCTOR WHO director CHRISTOPHER BARRY, and with a surprise guest appearance, this is a truly unique MYTH MAKERS.