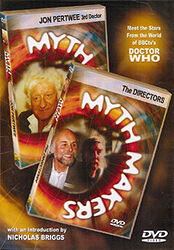 Note: DVD re-release of two interviews that were originally released separately on VHS: Myth Makers: Jon Pertwee and Myth Makers: Christopher Barry & Paul Bernard. Note that the Pertwee interview is shorter than the original VHS edition. The Pertwee interview was later re-released again as part of The Doctors: The Jon Pertwee Years.
Cover blurb:
DOUBLE THE VALUE!
JON PERTWEE — The 3rd Doctor
"There's nothing more alarming than coming home and finding a Yeti on your loo in Tooting Bec..."
JON PERTWEE was quite simply a star. From vaudeville, through theatre, radio in THE NAVY LARK, films, records and television, including DOCTOR WHO and WORZEL GUMMIDGE, he entertained audiences worldwide for over fifty years.
Recorded at JON's home in 1989, this interview by NICHOLAS BRIGGS provides the most comprehensive visual biography of this talented and versatile entertainer ever recorded.
This is not a tribute... it's a personal testament.
THE DIRECTORS — Christopher Barry & Paul Bernard
"The Draconian was a marvellous creature and I created that almost immediately... on my sketch pad."
Paul Bernard
Directing any television programme is demanding enough, DOCTOR WHO brings its own special challenges. Between them, CHRISTOPHER BARRY and PAUL BERNARD have directed thirteen stories in the BBCtv series and worked with four Doctors.
Here, in this special MYTH MAKERS, they talk about their careers in television and share memories of working on DOCTOR WHO.
Since recording his interview PAUL BERNARD has sadly died. This production is respectfully dedicated to him.
SPECIAL FEATURES
Introduction by NICHOLAS BRIGGS and KEITH BARNFATHER.
Biography of all featured artists.