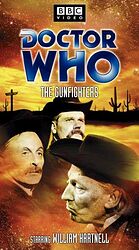 Note: This title is only available separately in the US. In the UK and Australia it was released as part of the First Doctor Collection in 2002.
Cover blurb:
The TARDIS arrives in Tombstone, Arizona in 1881. The Doctor, suffering from toothache, seeks out the local dentist — none other than the notorious Doc Holliday. Meanwhile, Steven and Dodo decide to explore the town, and soon find themselves the replacement act at the Last Chance Saloon.
Tensions are running high in the feud between the Clanton family and Doc Holliday, while the local lawman, Wyatt Earp, struggles to keep the peace. When legendary gunman Johnny Ringo comes to town, events escalate still further. Can the Doctor, Steven and Dodo do anything to diffuse the situation, or is a gunfight at the OK Corral a historical inevitability?